About Us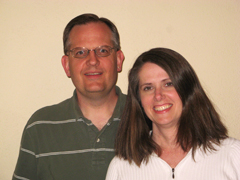 Hi!  I am Greg Schultheis, president of S&S Custom Cabinets, and next to me in the photo is my wife, Kim, vice-president of our company.
I dreamed of becoming a fine woodworker while I was growing up. To reach that goal, I attended Spokane Community College where I earned an associates of arts degree in carpentry/cabinetry.
I spent several years working for one of Spokane's finest custom home-builders. In 1997, we established S&S Custom Cabinets  and since that date, we have been designing and building the very best cabinets available. I love the smiles my work puts on people's faces. It's pleasurable to bring so much joy to our customers, people who become our friends.
While there is considerable demand for our work, I am working equally as hard to keep the business small. I prefer to give lots of personal attention to  our projects rather than focus on growing a large business.
I believe that small business approach benefits you. You get personal attention, something that is lost in larger companies.
My specialty is custom residential cabinetry.  I also build custom wood commercial cabinetry and,  occasionally, custom furniture.
We do hope that you will stop by and visit! We're easily found on the main road through Colton, Wash. Look for our sign, which is hard to miss. Our address is: 609 Broadway St.(State Route 195), PO Box 10, Colton, WA 99113.